Otakon 2013


It's my tenth Otakon. How the time flies...
As always, click for a bigger version, although some photos don't have a bigger version due to not turning out well.




Thursday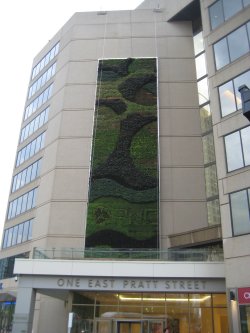 It's not new, but it's super neato!



Friday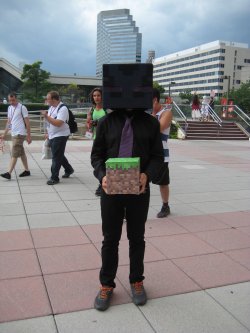 Speed Racer & an Enderman from Minecraft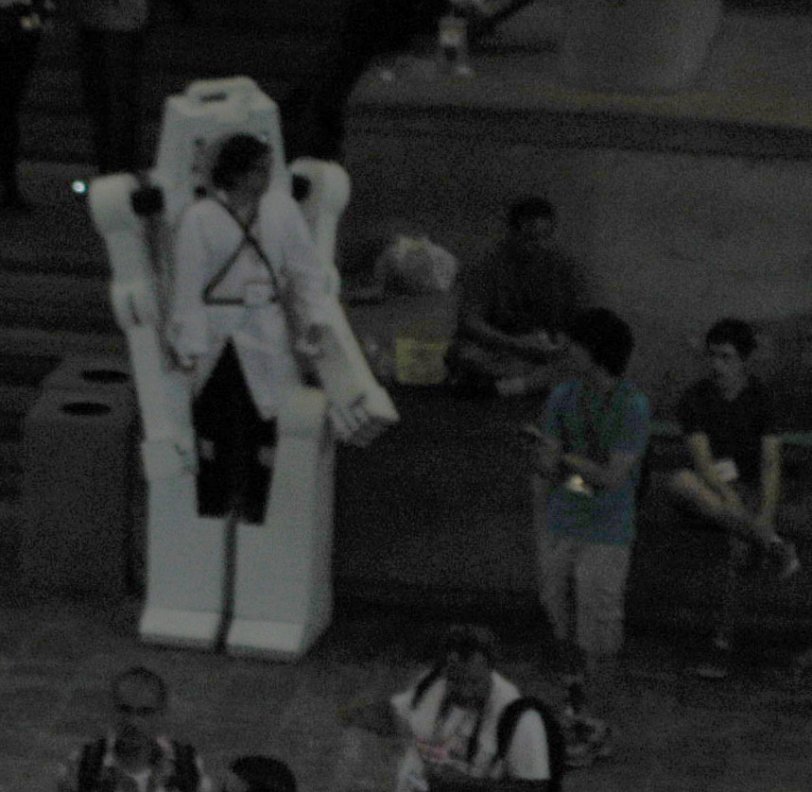 I wasn't able to get close and my photos didn't turn out well, so have some crappy releveled zoomed shots of a guy in a ride armor!



Fourth doctor best doctor, fourth doctor's companions best companions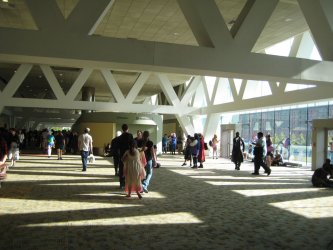 elevator nope
:|
(this was over at the Hilton)



Saturday





We were greeted by this strange sight upon arriving at the park at the base of Light Street.




Seems someone went a little overboard on the suds today.




Adorable Rainbow Dash kid!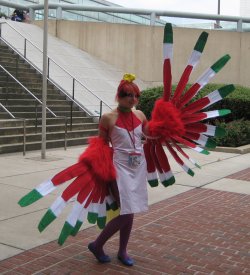 Ho-oh from Pokémon :D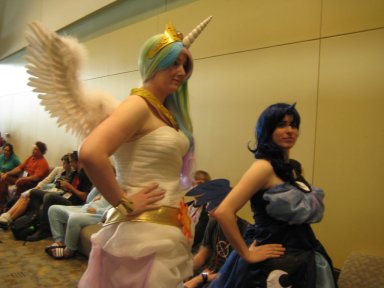 And then it was OtaRockman time!




Otarockman is brought to you by Smirking Dr. Light.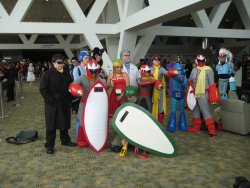 Classic series only (plus lurking Tomahawkman.EXE)




X series only. Dr. Light is going "WOOOOO I'M A GHOST!"




EXE only
Poochy no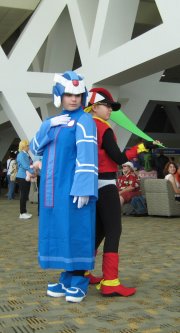 Zero series only




I believe this was our showing for ZX? I don't know much about ZX, unfortunately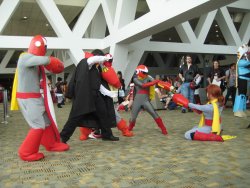 There were entirely too many Blues, so we had them fight it out.




Terra_X showed up with her Pluto costume! \o/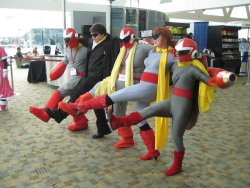 When the fighting died down, there was dancing.




Oh yeah, here's Enemies Only
with bonus Smiling Light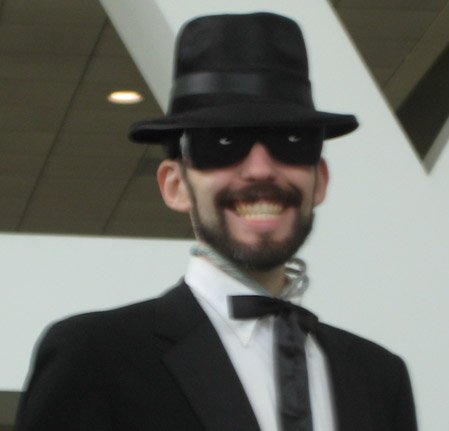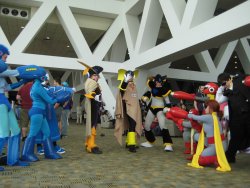 Triple Threat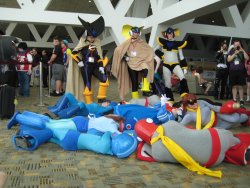 welp




Roll cleans up the mess




Genderswap Blues & Roll, 'cause why not?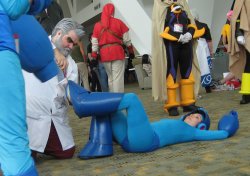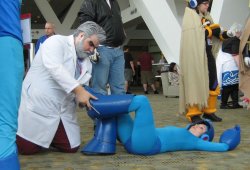 Meanwhile, Rock gets a boot repaired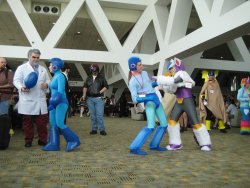 Repairs done, also Pluto gets some poses in




Lady (characters) Only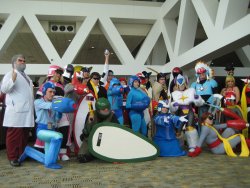 The big ol' group shot!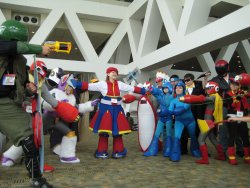 STOP FIGHTING, GUYS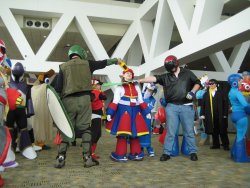 OR NOT IDK




I can't get over those eyebrows, they're amazing


In conclusion,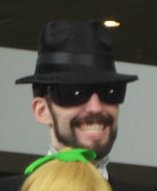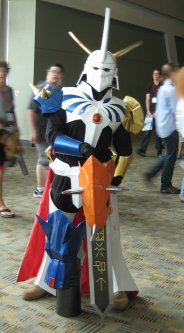 So that was it for Otarockman, now we're off to more random things, like Omegamon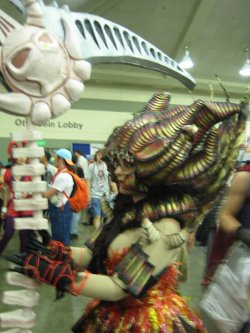 I believe this lady is from Dark Souls? Either way, her costume was really impressive and it's too bad I didn't get a better photo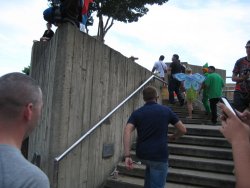 hey guys what's goin on




Oh... hello there...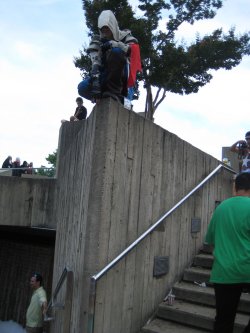 !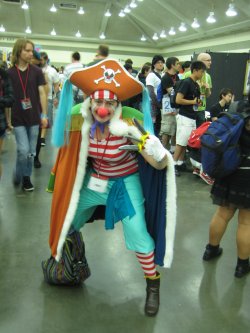 Meanwhile in the Art Room, a really good Buggy the Clown!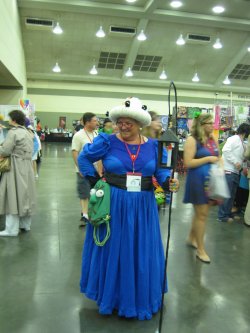 And Baba from Spirited Away :3




Sunday






I haven't seen these since Gigagurl_X's dragon way back in 2006! And this one's so fuzzy...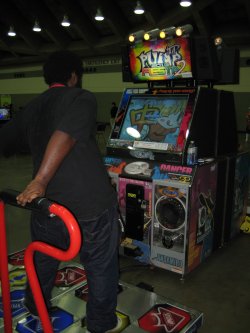 This dude was working both sides of the machine AND got a 700+ combo!



Swag



I know there's at least a couple of my friends who are only interested in this part, so here we go!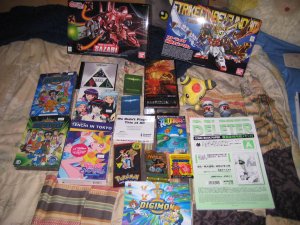 • BB 382 (Strike Liu Bei Gundam) & BB 383 (MSN-04 Sazabi)!
• "The Triforce of Bass" by DJ Cutman, Spamtron, Mykah & dj-Jo
• Destined Legends, a card game with art by Cari Corene, which is who I bought it from
• extra-adorable Ampharos plush from Craneking
• Deleter brand ink for dip-pen and manga paper
• DVDs: Digimon Adventure & 02 (MAI NOSTALGIA), Tenchi in Tokyo (MAI NOSTALGIA) and Panty & Stocky (THANKS ACER)
• Aquarius (thanks Hyde) & We Didn't Playtest This At All
• Pokémon trading cards, Digimon trading cards, Magic: the Gathering Modern Masters booster (didn't get anything SUPER awesome but it'll make good trade fodder) and some kind of strange Nintendo trading cards. you'll see what I mean if I ever get my scanner working.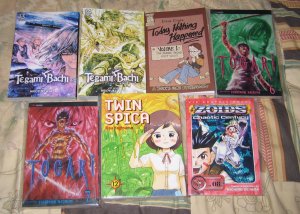 BOOKS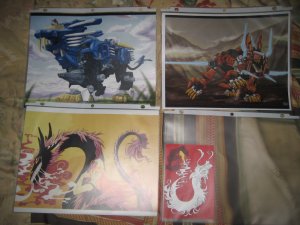 I hit up Skipaway's table several times over the weekend, mainly to show her my excellent collection of Zoids books ;D
Pictured: Blade Liger (with Van), Liger Zero Schneider, Orihime flying away and.. the fourth picture isn't on DA, oh well :[ and also upside down in this photo, whoops




This here is stuff by Dizziness. Came for the ponies, stayed for the pretty-ass dragons.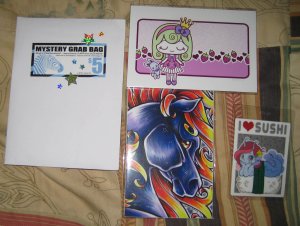 I also picked up a $5 grab-bag and got these.




Celestia and Luna by Cinnamoron :3
(Confusingly I cannot find Luna)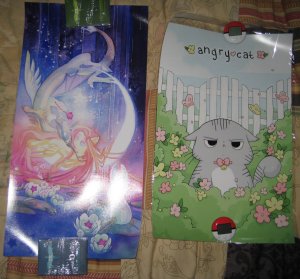 Angrycat by Cinnamoron, Fluttershy & Discord by Cari Corene





I returned in force to Cari's table this year (after having bought a bunch of prints last year), buying up books (Toilet Genie, up above) and cards (Destined Legends) and things!
This is what's pictured here. It's shiny!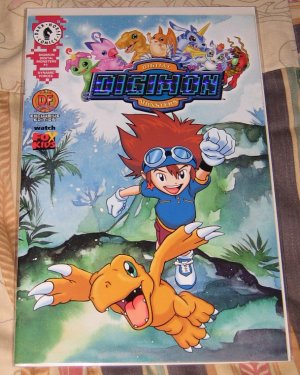 I didn't even know this existed
I really want to read it but it's got a fancy seal to go with its extra-fancy certificate of authenticity and I know I'll feel bad if I break it :(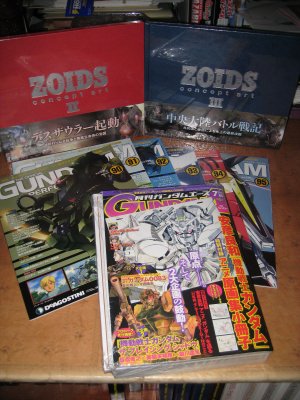 This ALSO was waiting for when I got home! :3



Home | Myfiles | stardroidjupiter@gmail.com